Joydens Wood Infant School
In our school we stimulate awe and wonder through a captivating curriculum that develops effort based learning. We support and work together to make our school a purposeful place that enables every child to thrive and succeed. We celebrate differences and see the uniqueness in all.
VISION AND VALUES
This week's school attendance
Welcome to Joydens Wood Infant School. I hope you find our website informative and helpful in aiding your decision in choosing the right school for your child. Our aim is to provide all prospective parents with as much support as possible to ensure that you have a rounded view of what education is really like at Joydens Wood Infant School.
Our school prides itself on being a wonderful place to learn and we have a very special partnership with our parents and our community.
Please click here for our school's Virtual Tour.
Please click here to see our Prospective Parents page for more information around transition and support.
We strive for academic and personal success and aim for every child to leave us prepared for the challenges of life – taking with them many happy memories!
We hope this website will give you a flavour of our wonderful school and you will find the information you are looking for. We also provide frequent updates on our school's Instagram and Facebook page, showcasing the school in action and the wonderful learning opportunities and community projects we invest in. If you are interested in our school, we encourage you to follow us on one of these platforms so you can get a feel for our school community.
If you feel you would like more information regarding our school, please do not hesitate to contact our team on 01322 523188 or alternatively by email info@joydens.org.
Mr Strong 🙂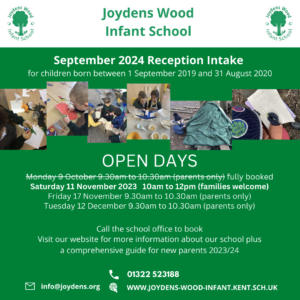 Dear Parents,
I want to extend my heartfelt appreciation for your unwavering support and your children's unwavering commitment to their education.
I am absolutely thrilled to share some outstanding news about our academic results last year. Our school achieved remarkable results in our Phonics Screening Test, with children reaching a "Good Level of Development" (GLD) in the Early Years Foundation Stage (EYFS) last year. These achievements significantly exceeded both Kent and National averages.
For those who may be curious, GLD stands for "Good Level of Development." Children are considered to have attained a Good Level of Development at the end of the EYFS when they meet the expected level for the Early Learning Goals (ELGs) in the prime areas of learning and the specific areas of mathematics and literacy.
It's important to note that the Phonics Screening Test takes place in Year 1.
Looking forward, we are already preparing for Open Mornings for next year's cohort. We encourage you to share this valuable information with friends and family who may be interested in becoming part of our vibrant school community. It's a fantastic opportunity for them to experience first hand what makes our school so extraordinary. We have a waiting list for our Year 2 cohort, but have some spaces in our Year 1 and EYFS classes.
Once again, I want to express my gratitude for your continued support. Wishing you and your families a delightful week ahead.
Warm regards,
Mr. Strong
Headteacher
Phonics Screening Test Year 1